Taming Baby's Flyaways Is No Walk in the Park
All you want is to quickly comb your baby's hair into an adorable, aww-worthy style. But the confusing labels + synthetic chemicals in most hair styling products only leave you with…
Stiff + Crunchy Helmet Hair
An Oily, Greasy Mess
Icky Ingredients (and Mom Guilt)
No Cowlicks. No Chemicals. #NoFilter.
Discover the light-hold hair paste picky parents trust to style baby hair that looks good in photos and on the go.
Hair Care + Skin Care
100% plant-based
Vegan
Non-GMO and hypoallergenic
No soy, gluten, peanut, or dairy
No phthalates, parabens, sulfates
Cruelty-free
Vegan
Organic & natural ingredients
Dermatologist tested
Safe for sensitive skin
Buy Now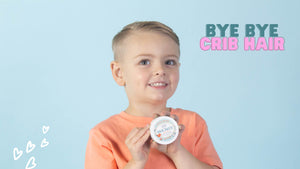 Kids Hair and Skincare You Can Feel Good About Using
As busy parents ourselves, we believe it shouldn't be so hard to find a trust-worthy, baby-safe hair styling product that tames crazy baby hairs so your little one can look their very best.
So we created a gentle, vegan, and hypoallergenic hair paste that would clear the world's highest safety care standards.
Our Mission, Value, and Standards
Take a look inside
If you've ever squinted in confusion at the ingredients list on a baby product, you're not alone. We believe no parent should need a degree in chemistry to discern good from bad when shopping for their child. Here's a transparent look at all the good stuff in our hair paste—and all the icky stuff we promise to leave out.
What's In It (+ What's Not)
As Seen in
Tag us on Instagram @laneandcoshop for a chance to be featured